Eating in CozumelWhat to eat: IN TOWN
Don't let the giant cruise ships docking daily in Cozumel fool you. At its heart, the island is still a small fishing village, where neighbors exchange gossip at the market and enjoy fresh ceviches made from the daily catch. Walk a few blocks inland from the ferry dock with all its tourist flash, and you'll still find an abundance of authentic, delicious local food. Stands that open just one day a week serve true cochinita pibil–island-raised pork slow-roasted in an underground pit overnight until it's melting and succulent.  Fresh fish is everywhere, typically enjoyed fried whole, family style, and accompanied by a cold beer.
Need a guide? Take our Cozumel Food Tour any weekday morning or Saturday AM.  Experienced local foodie experts take you around town on a three hour food odyssey, to taste Yucatecan specialties, quesadillas, sweet breads, seafood, and traditional lunches. We'll help you find the island's true gems, letting you enjoy the best local sazón (flavor), instead of wasting hours poring over TripAdvisor reviews.
For all cooks–locals and visitors– the yumminess starts in one place: Cozumel's Mercado Municipal (or Municipal Market), a maze of small booths brimming with the enticing smells, vibrant colors, and fresh flavors of local fruit, meat, and fish. Here, cooks can find cuts of pork raised right here on the island, fresh Caribbean pargo fish, local jicama (smaller and tastier than the supermarket version), and unusual fruits like the milky purple caimito or fudge-like zapote negro. The poet Pablo Neruda once said he spent years of his life visiting mercados, "because Mexico is found in her markets," and we'd have to agree:  The beating heart of any Mexican town is in its market, and Cozumel is no exception.
In this building, all of Cozumel's history comes together. From ancient Maya cuisine, we find corn dough, bright red achiote paste, sour oranges, chocolate, and local squash. The Spanish contributed pork, beef, and cheese. And thanks to modern development, there's even some Filipino food among the market's luncheonettes–thanks to the cruise ships' many Southeast Asian crew members who come ashore daily to the island.
Would-be-chefs can take a cooking class in Cozumel with the venerable Josefina, who lives just a few blocks from the market.  Part friendly grandmother, part serious profesora (she was a schoolteacher on the island for 30 years), Josefina tutors visitors daily on the intricacies of local cuisine, for example Pok Chuk (pork marinated in achiote and sour orange), cactus and mango salad, pico de gallo, salsas, flavorful black beans–and how to make perfectly round handmade tortillas.
(Believe us, it's an art that's harder than it looks–our first tries pre-Josefina came out more like stepped-on playdough!)
Josefina won't fool around teaching visitors how to make frou-frou modern fusion food–she's an expert in the classics, including recipes passed down from her grandmothers.  "I'm not here to invent," she says, and we appreciate her for it. Still, much of the food she prepares goes way beyond the typical Mexican food available in the U.S. That's thanks in part to the lush garden behind her house, where she grows the flavors typical to Yucatecan and island food: achiote, epazote, Caribbean avocados, guavas, and coconuts, among others.  "One of the best things in life is discovering new flavors," she likes to say.  Her pupils, after eating homemade quesadillas, and drinking her strong signature margaritas, are inclined to agree!
To find the best restaurants in Cozumel, start small.  And start with breakfast and lunch!
A typical Mexican breakfast consists of freshly-baked bread and strong coffee. Mexican breakfast bread is usually sweet, and here you can find all the classic varieties: round, sugar-topped conchas; heart-shaped orejas; wreath-shaped roscas; and pay de elote, a pie made of pureed corn that tastes more like cheesecake. 
At lunch time in town, a good choice is to hit a local cocina economica: simple Mexican lunch counters that serve comidas corridas (literally, "speedy food")–a selection of a few different home-style dishes each day, usually served with aguas frescas, a small salad, noodles and broth soup, and a side dish like rice or beans.
If seafood's your thing, find a local Pescaderia where, you can choose your own fish to have fried whole (you pay by weight), or enjoy ceviche made with mero fish (grouper), shrimp, or conch.
If you decide to spend the day on the other side of the island, you can get even fresher fish by spearing it yourself!  Freediving experts Spearfishing Today will pick you up and take you by boat about 20 minutes off shore, where you can harpoon your dinner and take it home to cook. In this part of Cozumel, beaches are still undeveloped, without electricity and without cell phone signals, so you'll find just a few beach bars, where you can grab a cold beer and enjoy the sea breezes. Our favorite: Coconuts, perched on top of a cliff, with the best ocean views.
Another option is visiting El Cielo, a crystalline turquoise bay where the starfish roam.  A ham and cheese sandwich on a bolillo roll, plus fresh fruit and guacamole= the perfect picnic lunch.
Or, for authentically local food, but in the comfort of your vacation home, hire a cook from our Cozumel private chef service. chilaquiles for breakfast or fish tacos Baja California style for lunch) to adventurous (goat-cheese-stuffed chicken breast with blackberry sauce for dinner).  Prices for the service range from $10 for breakfast to $30 for a three-course dinner.
Perhaps you'd like to venture out once evening comes? We recommend three places for finer dining in Cozumel.
Guido's, an Italian restaurant on Avenida Rafael Melgar between 6th and 8th Streets North, offers thin-crust pizzas, pastas, and vegetarian options.
Outside of town, at San Juan beach, Buccanos is a beach club by day, but on weekend evenings it becomes "Buccanos at Night" with some interesting recipes like a coffee-and adobo-seasoned catch of the day with goat cheese cream and green beans, or a lobster tail in miso butter with coconut rice and sweet potato fries.
Pepe's is a restaurant that opened in 1966–before Cancun was even built. Today, it's a great date spot, serving mostly steak and seafood. Do your part for the environment and order the invasive-species lionfish in a panko crust.
If you have questions or comments about food in Cozumel, feel free to contact us. Food is our life and we are always ready to talk about it!  Enjoy your trip, and happy eating…
Available

Tours & Services
All
Cooking Class
Food Tour
Off-the-beaten Path
Hands-on
Grocery Shopping
Cook Service
Cozumel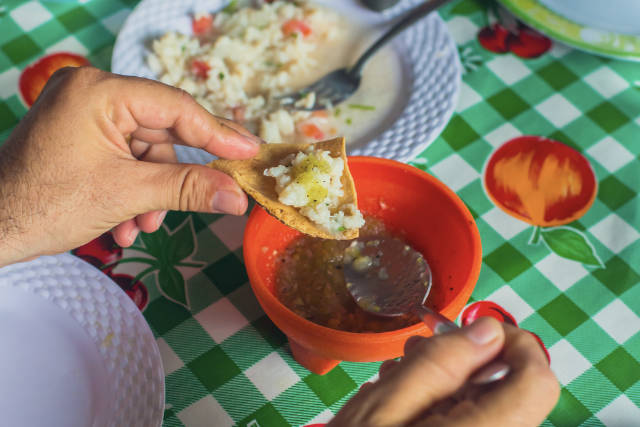 $80usd
Take your taste buds for a tour in Cozumel and Cozumel Chef's Food Tours of Mexican cuisine.
Cozumel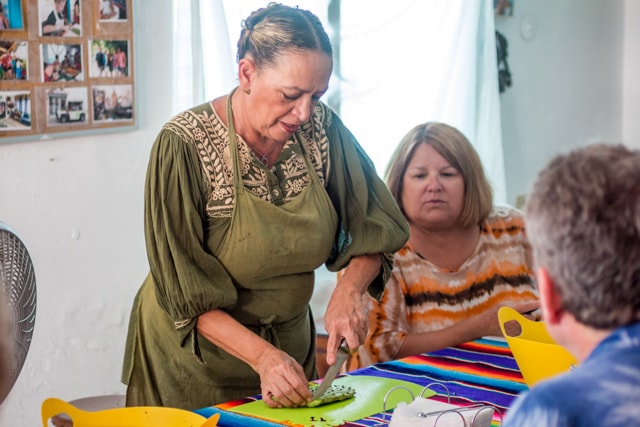 $80usd
Josefina's knowledge of the cuisine is deep and she is dedicated to introducing the unique flavors of Mexico to you.
Cozumel
$10usd
Daily Cook Service Cozumel
If you are looking to have the semi – all- inclusive feel to your vacation, Cozumel Chef also offers daily cook service.