Bon appétit ! ¡Buen apetito!
About Cozumel Chef
Meet Our Head "Chef"Emily
Emily, the "Cozumel Chef", was not always an island dweller and living in the land of tacos. She was also not always a chef (professionally speaking). She was brought up in the United States, primarily in New Jersey, and earned her B.S. in Mechanical Engineering from Lafayette College. Following college, Emily went straight into a corporate environment and worked in management.
During this time, Emily spent many evenings after work dabbling in cookbooks, watching Top Chef and spending much of her income dining out. She realized that food was not just three square meals a day; it was a way of life and the thought "What am I going to eat next?" was always on her mind. Emily decided to follow this calling and enrolled in culinary school at the French Culinary Institute in New York City  to become a classically trained French Chef (not knowing she would be cooking for people in vacation rentals on the small island of Cozumel).
Cozumel Chef started primarily as a private chef service for the island of Cozumel. Fast forward 8 years later, the business has since evolved. It is now a "one-stop-shop" for all your culinary needs in Cozumel and Playa del Carmen. Offering private chef services, grocery shopping, award winning local culinary tours and highly rated cooking classes! Emily continues to pursue her passion for food and life and looks forward to sharing the wonderful flavors of Mexico with you!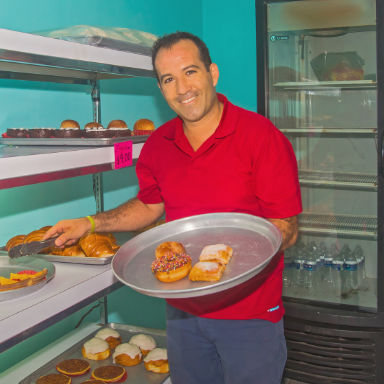 GERARDO Lead Guide – Cozumel
Gerardo was born and raised in Mexico City. In 2003, he and his wife moved to Cozumel where they started their own school for adults to obtain their GED. Gerardo is a gifted storyteller and a passionate foodie. His love of food started at a young age, growing up in a house that loved to cook. Additionally, he had a mother who owned a business preparing food for special social events. Gerardo became a part of our foodie family in 2014, taking the Cozumel Food Tour to a more local level. When Gerardo is not guiding or teaching he spends his time training for marathons and soaking up the sun at the beach with his family.
Favorite Mexican Dish: Pork in chile pasilla salsa, an Oaxacan specialty. Also, any kind of sea food. Lucky for Gerardo the island has an abundance of fresh fish!
Mexican dish you grew up with: Pork in chile pasilla salsa (this was his mother's specialty). This dish is so rich in flavor. The chile imparts a deep smoky aroma. And it's one of those dishes that the salsa gets better day after day.
What he loves about Cozumel: Gerardo loves the people, the clear and amazing color of the water and the beautiful white sandy beaches. He has a sense of security on the island and always feels at peace.
What our eaters have said about Gerardo
Thank you to Gerry who took us on this amazing tour when we were in Cozumel. You were a wonderful guide! We will definitely be back to Cozumel to do the tour again! – Amanda, Iowa USA
Gerry was very knowledgeable, friendly, laid-back, and very easy to talk to. This is by far the best excursion we have ever done. – Justin, USA
More than what we expected, our guide Jerry was very friendly and informative. The food was delicious and I would recommend this tour to all foodies. – Steve, USA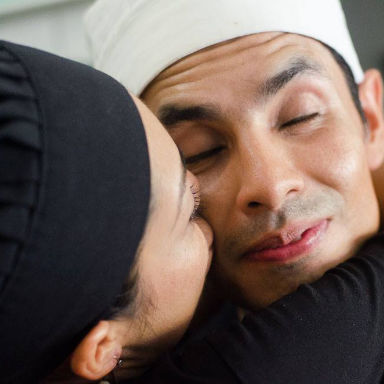 PAVEL & ISAChef – Playa del Carmen
Chef Pavel and Chef Isa met in culinary school in Mexico City. This dynamic duo's passion for food and each other soon ignited. They left the hustle and bustle of the big city for the pristine beaches and aqua marine blue waters of Playa del Carmen. Elemento opened in 2013. The restaurant is nestled in Casona, an interior design studio in the heart of Playa del Carmen. This unique space provides a fantastic menu of the day (it changes weekly) as well as delicious breakfasts. Their food is inventive and whimsical (especially if you know your traditional Mexican dishes). They take Mexican ingredients and traditional regional dishes (dishes they loved as children) and of course the elements that are found in a jungle/ beach setting to create art on a plate. Hire them today for a special private chef meal in your Playa del Carmen vacation rental!
Favorite Mexican Dish: Mole Negro. This is the famous and most well-known moles of Oaxaca. The sauce is thick and rich in flavor (much darker than poblano mole). It is also one of the more time intensive moles to make as there are a number of ingredients; chocolate, chiles, onions, garlic, hoja santa and more!
Mexican dish you grew up with: Enchiladas in any form and smothered in either salsa verde, salsa rojo or frijoles (green, red or bean sauce).
Favorite Mexican ingredient(s) to cook with: Epazote, cilantro, any type of chile and avocado.
What our diners have said about Chef Pavel & Chef Isa
Creative flavors, artistic presentation… imaginative cooking in your Playa del Carmen vacation rental. – Merika, USA
Pavel and Isa, young chef couple, they found love in the kitchen and they also make magic in it! Great price for such Great Food. – Sebastian, Mexico
Do yourself a favor and treat yourself to a private dining experience.  – Lisha, TripAdvisor
JOSEFINAChef Instructor – Cozumel
Josefina has lived on the island for 31 years. Before starting her cooking classes in her home she was a language teacher for 35 years. In 2008 she started "Cocina con Alma" a small, intimate cooking school from her home kitchen. As word of mouth spread, her classes grew in popularity (and during the high season we recommend bookings sooner than later). She delights in sharing her traditional Mexican home-cooked meals with students. Cooking with Josefina feels like spending a day with a Mexican great Aunt or Grandmother, she makes you feel like family. The breadth of knowledge she has on traditional recipes and ingredients (some that are grown in her own backyard) is expansive.
Favorite Mexican Dish: Nopales (cactus petals). As a child on vacation, her family would visit Guanajuato, a beautiful Spanish Colonial city found in central Mexico. Here, her aunt would force her to eat nopales to the point she actually started to enjoy them. Now she can't get enough of them and she loves to share this special and unique Mexican ingredient in class.
Mexican dish you grew up with: Enfrijoladas – a traditional Mexican dish made from corn tortillas, beans and cheese. Best served up for breakfast with coffee.
Favorite Mexican ingredient to buy in the local market: Cilantro, fresh seasonal fruit, especially mango and pineapple.
What our culinary students have said about Josefina
Josefina offers friendly, knowledgeable deliciousness. – Chris, CA
Josefina is so warm and charming. It's like cooking with a favorite auntie! TripAdvisor Review – USA
Josefina was a perfect hostess and teacher. I give this my highest recommendation if you want to learn about Mexican home cooking in a Mexican kitchen. Eugene, USA
XANTALLead Guide – Playa del Carmen
Xantal is the friendly face of the Playa del Carmen Food Tour. She joined our team of local culinary experts in 2017. She comes from a traditional Mexican family with deep roots in Mexico's food culture; her family owned a taco stand in Huatulco (Pacific Coast town in Mexico). In 1999, Xantal and her family moved to Playa where she met Erick, her husband, who is a traditional Mexican baker (lucky her!!!). In addition to Xantal walking the streets of Playa and sharing insider foodie tips on our tours, she also plays an immensely supportive role to the Cozumel Chef Team answering many of our emails. Say hola to her on the streets or by email!
Favorite Mexican Dish: For Xantal a favorite is always difficult to choose, but if she were to choose it would be black mole. Black mole was a dish that her grandmother use to cook.
Mexican dish you grew up with: Red pozole – . Hope to get invited over to her house as Xantal makes a stellar pozole!
Favorite Mexican place to eat in Playa: El Fogon on Ave 30th NOT the tourist trap one on Ave Constituyentes. And Nativo – great for fresh fruit smoothies!
What our eaters have said about Xantal
My family and our friends voted the Playa del Carmen Food Tour as the highlight of the trip. Xantal – our guide, was very knowledgeable and really lovely. We would like to say a special thanks to her! Leslie, USA
This food tour was the highlight of my stay in Playa del Carmen. Our guide Chantel was terrific and extremely knowledgeable. – Edward, TripAdvisor Review
Xantal was a fantastic guide, very knowledgeable and a delight to chat with. Would do it again in a heartbeat. – Marla D, TripAdvisor Review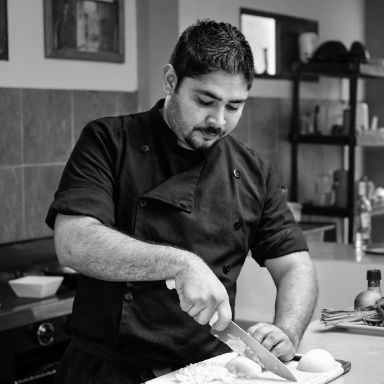 Meet our Head Chef in Cozumel, Chef Fernando. He handles all of Cozumel Chef's private chef services for the vacation rentals of Cozumel as well as special events. From weddings, to anniversaries and special birthday celebrations, Chef Fernando is true crowd pleaser. Chef became passionate about food as a small child in Mexico City. He eventually went to culinary school, studying at Les Tour Blanches – honing his craft and enthusiasm for food. Following culinary school, chef moved to the peaceful island of Cozumel. He now has over 10 years of professional experience in the industry and continues to cook for his restaurant and privately for people. Chef specializes in Mexican bistro fare – fusing traditional Mexican cuisine with French and Italian influences.
Favorite Mexican dish: And just like Xantal…for Chef Fernando it is also hard to choose only one traditional Mexican dish, but mole is the winner! Chef love's to eat it but finds deep pleasure in cooking it. He says it "is a graceful marriage of ingredients and flavors, one that takes time and love."
Mexican dish you grew up with: As child, chef's mother would cook many delicious things everyday, but for special occasions she cooked enchiladas with guajillo sauce – a traditional dish that comes from the center of Mexico. It is made with carrots, potatoes, cheese and lettuce.
Favorite Mexican ingredient: Chile and corn – without it there is no traditional Mexican dish.
What our diners have said about Chef Fernando
We had Chef Fernando last night for a meal in our villa. It was fantastic. It was amazing to watch a true chef at work in our small kitchen. Great interaction with the family. I would recommend this service to anyone who plans to visit Cozumel. – Troy, Nova Scotia CA
Thank you so much! We had a lifetime memory. The meal and experience was amazing. – Mike, USA
We had Chef Fernando cook for us at our villa on three separate nights, and each time his food was absolutely amazing! We enjoyed his company as well, and found him to be delightful. Highly recommended! – Charles, USA
CERTIFICATE OF EXCELLENCE
Award-winning food tours, cooking classes and dining experiences. Receiver of TripAdvisor's Certificate of Excellence 5 years in a row.
CHEF APPROVED!
Cozumel Chef offers exclusive culinary experiences that are owned, handpicked, tasted, tested & approved by a professional chef. We know each local tour guide, teacher and chef personally and trust that they will offer you the most memorable and delicious experience while in Cozumel and Playa del Carmen.
STORYTELLING THROUGH FOOD
Discover Cozumel and Playa del Carmen's food through the eyes of a local. Cozumel Chef lets you find the "real Mexico" from touring local restaurants on a food tour, to learning how to prepare authentic Mexican cuisine in a hands-on cooking class or sitting back and relaxing in your vacation rental while be catered to by a personal chef you will be sure to find the REAL Mexico.
LOCALLY DRIVEN
Food is also about culture and our experiences will take you off-the beaten path …unique and see Mexico through the eyes of a local. Our tours and classes teach you about the history of food….Our goal is for guests to experience the "real Mexico", off-the beaten path locally guided tours. Taste the hidden gems. Learn about the culture through it's food in the culinary experiences we offer.